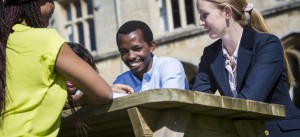 The Royal Agricultural University (RAU) has been named the fourth best University in the South West and makes an impressive debut appearance in the national rankings by The Times and The Sunday Times Good University Guide.
The RAU, the UK's smallest publicly-funded university, ranked fourth out of the 12 universities in the South West and placed a respectable 51st out of the 127 UK-based universities.
It has also been named 'University of the Year for Student Retention', in recognition of its excellent degree completion rate.
Professor Chris Gaskell, RAU Principal, commented "We pride ourselves on the support, open-door policy, and personal approach we offer to all our students and so we are thrilled to receive this award in recognition of our degree completion rates. We welcome The Sunday Times decision to include the RAU, as a small and specialist institution, in the rankings for the first time and are delighted to be named as the fourth best university in the South West and ranked in the top half of all UK's universities."
The guide also notes that the RAU has one of the highest levels of spending per student and an excellent rating of 79.3% in the 2015 National Student Survey for teaching excellence and 85.6% for the student experience, as rated by final year students.
"With one of the highest levels of spending on student facilities and among the best degree completion rates, [the RAU] was assured of a respectable debut", write the Sunday Times Good University Guide, which is published on September 20 and renowned for providing students and their parents with an invaluable first reference point on the path to finding a university place.
The RAU's exceptionally high employability rates also contributed to its success in the league tables. The RAU is rated third in the UK for graduate employability by HESA, with 98% of RAU graduates gaining employment within six months, including almost 70% who have immediately entered into professional or managerial level careers.
The University's success in the Times and The Sunday Times Good University Guide follow recent accolades from The Complete University Guide, who placed the RAU amongst the top 10 in the UK for Facilities Spend, Degree Completion, and Academic Service Spend.