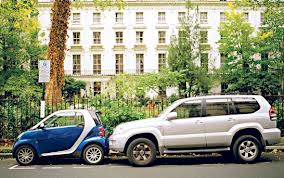 Make sure that you have the appropriate permit for parking in your street if required.  Click here for access to full details of parking in the Cirenceter area on the Cotswold District Council website.
Virtual Permits
Cotswold District Council now issues resident's permits and visitor permits via a virtual permit scheme. You can purchase these online or over the phone by calling 0845 319 4859. You will need to set up a permit account before buying your permits.
Please follow the online instructions here, or apply by telephone and someone will talk you through the process.
You will need to know your address, council tax number, and the registration number of any vehicles you wish to purchase permits for. Applicants should note that the maximum allocation per household is two residents' permits. The first permit costs £80 per annum and the second permit £100 per annum. These can be purchased on a monthly basis also with no extra charges.
Residents parking permits are available in the following locations in the Cotswold District:
Ashcroft Road, Cirencester
Ashcroft Gardens, Cirencester
Cecily Hill*, Cirencester
Coxwell Street, Cirencester
Purley Road, Cirencester
Purley Avenue, Cirencester
St Peters Road, Cirencester
The Avenue, Cirencester
Tower Street, Cirencester
Oak Street, Lechlade
Burford Street, Lechlade
* Residents in Blackjack Street, Park Lane,Silver Street and Park Street are entitled to a residents parking permit in Cecily Hill
There is a charge depending on the street you live in and the cost can be found on the application form.  Other things to note are –
A maximum of 50 visitor permits will be issued per household per year.
Proof of residency is required for the issue of all permits.
A parking permit will enable the holder to park the vehicle in a residents parking scheme.
A permit does not guarantee a parking space.
Cotswold District Council has the authority to withdraw a residents parking permit at any time.
Further information can be found on the Gloucestershire Highways Website.