Even though Cirencester is a sleepy Cotswold town in many aspects, it does boast an eclectic nightlife.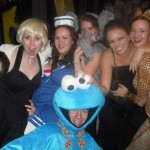 First and foremost you have the SU bar situated in the Tythe Barn.  The SU bar is open every night of the week and it's the main place for you to catch up with friends while on campus.  Friday nights are always "biggies" as this is when the SU put on different entertainment – from a band, to a DJ to a hypnotist ( keep an eye on the SU Social calendar for details!)  You can also buy a pint of Muddy Wellies, a beer developed by the RAU students via the entrepreneurial club.
ReVA is in Bishops Walk Arcade Tel: 01285 653103.  This is the place to be on a Wednesday night  opening times  10pm – 3am (During Term Time) and exclusive to RAU students.
Seventeen Black In partnership with ReVA Night Club, Seventeen Black is open every night of the week. Stretched across two floors offering fine wines, classic cocktails and crafted beers. This popular venue is open from midday – late at the weekends with it dance floor coming alive after 11pm.
The Wild Duck at Ewen is lovely country pub.  Its more a place for a relaxed (quieter) drink – maybe the place to take your parents when they come to visit.  They also provide B & B rooms. [Currently having a major renovation].
Being at uni is a lot about having fun… but if you are going to go out and have a drink, make sure you know your limit and never, ever drink and drive.  If you plan to drink then book a taxi, arrange to stay overnight or for someone who is not drinking to drive.