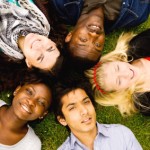 As an international student, you are involved in a fantastic and often life-changing experience.  However, moving away from home can be both exciting and daunting, but moving to a completely new country can sometimes mean some big adjustments too.
At the RAU, we understand that overseas students will need some extra support, either academically and/or personally and, as such, employ two international officers to assist you.  Carol Zhang (carol.zhang@rau.ac.uk) and Jane Zhang (jane.zhang@rau.ac.uk)  are both located in the Emrys Jones Building and will be able to help you with matters such as bank accounts, visas, council tax and registering with the Police.  Please feel free to drop in to meet them – even just to say hello and introduce yourself or to get help with any problems or questions you may have.
The Student Union also run an initiative called "Escape and Explore" which is a society who's aim is to do exactly what it says on the tin!  It is to get you out of College and to explore the local – or sometimes national – area.  Another aim of the society is to work alongside the Chaplaincy team to ensure international calendar events are celebrated, such as the Chinese New Year.  If you would like to be involved in organising these events or want to find out what trip is being organised for this week, then call in to the Student Union office (off the Tythe Barn) for further information.