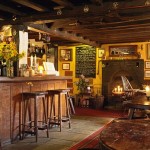 In and around Cirencester you will find pretty much whatever you fancy to eat; from pub grub to fine dining.
The Wild Duck at Ewen – 01285 770310.  With a roaring log fire and a pretty garden, it's a great place to eat if your folks come to stay, on birthdays, or if you just fancy a good Sunday lunch or a quiet drink. [Currently under major renovation]
The Thames Head on the Tetbury Road – 01285 770259 is a traditional pub with an award winning chef.  You can get great steaks, pies, curries, amongst other dishes for a good price and there is always a friendly welcome.
Jesse's Bistro in Love Street – 01285 641497 is tucked away so you can eat outside in the courtyard in the summer months.  Specialities include Old Spot pork, Cotswold lamb and fresh fish and seafood.
Pizza Express in Castle Street – 01285 65565 is everything you would expect from the chain.  Its in the town centre and will provide take away pizzas too, as long as you collect.
American Pizza in Watermoor Road – 01285 650660 – is always a number to keep in your phone as they will deliver to Uni or your local address, as long as the order is over £10, and you can pay by card over the phone.
Thai Emerald in Castle Street – 01285 654444 – is an authentic Thai restaurant with lunch and evening menus.  They will do takeaway but their delivery is not the best so better to collect.
Zen Chinese in Watermoor Road – 01285 653030 is based on Watermoor Road.  This tried and tested Chinese is simply a takeaway (collection only).
Raj Doot in Castle Street – 01285 652651 for the good old Indian.  A family run restaurant with friendly service.  Lots of choice for meat lovers and veggies alike.  They do takeaway (collection only).