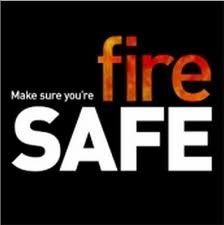 On average, five people aged 17-24 are killed or injured by fires each day and statistics show that you are more than twice as likely to die in a fire if you don't have a working smoke alarm. So get a smoke alarm and check it regularly.
In the event of a fire, get out, stay out, and dial 999.
What your Landlord Must Do
The 2004 Housing Act confers responsibility on landlords to do several things about fire safety:
There has to be an adequate means of escape

Depending on the size of the property there may have to be smoke alarms and fire extinguishing equipment.
Houses of Multiple Occupation
If the property is a House of Multiple Occupation subject to licensing, the landlord must also comply with licence conditions in relation to fire safety.  Please click here for more information on Houses of Multiple Occupation.  By law, your landlord must:
Make sure that all gas appliances they provide are maintained in good order

Ensure that a Gas Safe registered engineer carries out a safety check each year

Maintain all electrical installations (i.e. fixed wiring) and any electrical appliances they provide (i.e. cookers, kettles) and make sure they are safe to use

Make sure that any furniture and furnishings they provide meet the Furniture and Furnishings (Fire) (Safety) Regulations 1988
What you Must Do
There are measures that tenants can take to reduce the risk of fire starting or spreading:
Keep all corridors and exits clear.  Most fires start during the night and may cause the electrical systems to fail so you will not be able to see easily where you are going. Having a clear pathway to the exit can mean the difference of a few seconds and maybe life or death.

Observe 'No Smoking' rules in the property.  Cigarettes that are dropped or not fully extinguished are a common source of fire.

Fire doors should never be propped open because there are there to slow the progress of a fire. While it may be annoying that they close automatically, they could stop the progress of a fire for half an hour or more and give occupants a chance to get out safely.

Fire extinguishers should not be tampered with.  You should only attempt to use them in the case of a small fire and never put yourself at risk. Make sure that everyone in the property knows how to use them.

Smoke detectors provide an alert in case of fire.  They should never be covered or the battery removed even though there will probably be false alarms from time to time when someone overcooks something. The detectors should be tested regularly and the battery replaced once the detector starts to emit a low battery warning 'chirrup'.
Gloucestershire Fire & Rescue provide FREE Home Fire Safety checks.  For more information, click here.