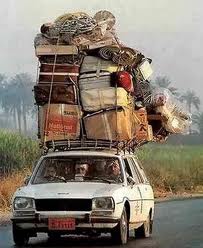 Many agencies and landlords have a 'move-out' document. Understanding what is expected helps speed the move-out process and reduces the likelihood of disputes. You have a responsibility to return the property in the same condition that it was let to you, allowing for fair wear and tear. The landlord or agent does a closing inventory with you to witness the move-out. Have a copy of the original inventory with you. Run through the checklist. This will result in fewer problems and a quicker return of your deposit.
Below is a summary of some things that need to be done:
All furniture must be left in its original position.

Decor must be returned to its original specification unless otherwise agreed with the landlord.

Any light bulbs not working should be replaced.

All rubbish and personal belongings should be cleared from the property, unless agreed beforehand with the landlord.

The property should be thoroughly cleaned, including under furniture, skirting boards, inside cupboards, the oven etc.

Defrost the fridge and freezer.

Ensure all utility bills are paid and accounts closed (this may not be able to be done on the day you leave but do ensure you take final meter readings).

All keys must be returned.

Forwarding addresses and contact details must be left with the landlord.

Arrange with Royal Mail to have your mail redirected.
Do not allow new tenants to leave any of their belongings in the property unless the landlord has agreed to this. You may be held responsible if these belongings get lost or stolen, or the landlord or agent may assume you left it dispose of it and charge you.  Never give keys to new tenants.
When you hand over the keys ask your landlord how much of your deposit is to be returned to you. It may only be possible to give an estimate at this stage but you should agree what deductions are to be made for eg a repair or cleaning costs. If you are able to agree the figure you should expect to receive it within ten days. If there is a dispute you will have to follow the procedures laid down by the deposit protection scheme selected by your landlord.  For further advice, contact Student Services.