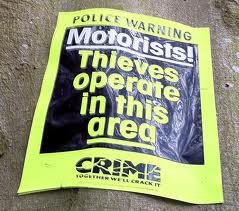 Many thefts or car break-ins happen because owners make it easy for the thief.  It may be difficult to protect your car from a determined, professional thief, but most car crime is committed by opportunists who may be put off by relatively cheap security precautions.  Remember, it only takes a thief a few seconds to get into a vehicle.
To view advice from Gloucestershire Police on vehicle security, click here for their Vehicle Security Factsheet.
Here are some simple steps you could take to help significantly reduce the likelihood of being a victim of vehicle crime:
General Security
Fit an alarm and always use it.
All new cars are fitted with electronic immobilisers but if your car is over four years old, consider having an immobiliser professionally fitted.
Fit a locking petrol cap and wheel nuts.
Buy a steering lockand use it every time you leave the car.
Have your car registration number etched on every window.
Security mark all valuables in the car, such as radios and Sat Nav systems, using an ultraviolet pen and keep a record of all property marked.
Consider fitting a vehicle tracking device.
Lock all windows, doors and the sunroof whenever you leave the vehicle, even for just a few minutes.
Never leave keys in the ignition — even for just a few seconds or to heat the car up in winter.
Remove all valuables — never leave anything on display.
Sat Navs
It's no coincidence that the growth in popularity of Sat Navs has coincided with a new crime trend of Sat Nav theft.
Keep your Sat Nav safe from thieves by:
Not using it on daily trips – you know the way to the supermarket!
Take portable Sat Navs with you when leaving the car, together with the support cradle and suction pads
Don't be a sucker!

Wipe away any suction pad marks left on the windscreen or dashboard – thieves will look out for these
Don't leave the equipment in the glove box – thieves will usually check there first.
Don't leave anything on view in your vehicle. Thieves are opportunists and it only takes them moments to break into your vehicle.
What if it is stolen?
In the unfortunate event of your Sat Nav being stolen, the following advice could help its recovery:
Mark your Sat Nav with your postcode or vehicle registration number using special security markers.
Make a note of the name, make, model and serial number. Record that information on www.immobilise.com
Store your personal details in the Sat Nav hard drive on purchase.
If your car is stolen/broken into
Contact the police as soon as possible on the non-emergency number 101.
If possible, have full details available of the make, model and registration number of the vehicle.
If your vehicle has been broken into, tell the officers the method used (eg by breaking a side window).
Make a list of any property stolen from the vehicle, giving as many details as possible.
Ask neighbours or people living in the area if they saw anything suspicious.
If the vehicle has been stolen, tell officers if there was anything inside of particularly high value or that was potentially dangerous.