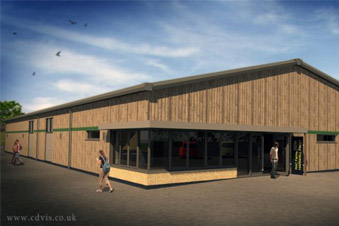 The Royal Agricultural College (RAC), together with the Frank Parkinson Agricultural Trust, is investing £1.2million in a new rural centre of excellence on its farm near Cirencester.
The RAU Harnhill Centre will be an important development for the agricultural sector, allowing the University to further its research and learning activities in relation to agriculture, the food chain and global food security. The new Centre will enable the sharing of cutting-edge knowledge between those involved in agricultural production and those undertaking applied research, enabling the promotion of education, innovation and knowledge exchange in the "field".
As a "knowledge hub", the Harnhill Centre will also provide a major new on-farm resource for the wider rural sector and the local community and will include classrooms, offices, a demonstration area, community space, and meeting rooms. The Centre will allow the University to build on the vocational rural skills and specialist professional training it already provides to enterprises, businesses and individuals wanting to drive efficiency and performance.
As an extension of the University's existing Outreach programme, local school children will also benefit from the new "on-farm" Centre. The RAU organises a number of events each year to provide primary and secondary school pupils with an insight into university life and a deeper understanding of agriculture and food production.
RAC Principal, Professor Chris Gaskell CBE, said: "The ambitions for the Harnhill Centre underpin the Royal Agricultural College's goal to play a role in meeting the challenges of sustainably feeding a growing global population whilst stimulating growth, diverse employment opportunities, and economic activity in rural areas."
The University has owned Harnhill Farm since 2009, having already farmed the land for a number of years as tenant farmers. The 235 hectare operation encompasses livestock and crop enterprises and is run as a commercial business whilst providing a focal point for academic studies and research.
The project has received generous financial support from The Frank Parkinson Agricultural Trust. The Trust's main objective is the improvement and welfare of British agriculture through education, training and knowledge.
The Harnhill Centre has planning permission to sympathetically restore an existing barn framework. The building work is due to start in April 2013, with a launch planned for the end of the year.